Demotech Rating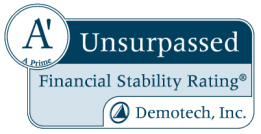 About Demotech
Financial stability can be independent of size. Small, well-managed Property & Casualty insurers can be more financially stable than larger, highly leveraged insurers. Financial Stability Ratings (FSRs) are widely accepted by government sponsored enterprises (GSEs), including Fannie Mae, Freddie Mac and various programs of the United States Department of Housing and Urban Development (HUD).
Developed in 1988, Demotech, Inc.'s Financial Stability Analysis Model was the first model universally applied to Property & Casualty insurers of all sizes. Their quantitative model was utilized before risk-based capital, dynamic financial analysis, or enterprise risk management was introduced on an industry-wide basis.
Demotech's rating process is based on an analysis of a series of quantitative ratios and certain qualitative considerations.
AM Best Rating

About AM Best
AM Best is the only global credit rating agency with a unique focus on the insurance industry. Best's Ratings, which are issued through A.M. Best Rating Services, Inc., are a recognized indicator of insurer financial strength and creditworthiness.
A.M. Best is a U.S.-based credit rating agency headquartered in Oldwick, New Jersey, that focuses on the insurance industry. Both the U.S. Securities and Exchange Commission and the National Association of Insurance Commissioners have designated the company as a Nationally Recognized Statistical Rating Organization (NRSRO) in the United States.
A.M. Best issues financial-strength ratings measuring insurance companies' ability to pay claims. It also rates financial instruments issued by insurance companies, such as bonds, notes, and securitization products.